Ok, i was really thinking that we were going to get some sort of customization element in Shadow of Mordor but now that 'The Dark Ranger' skin is available for preorder it looks as though we won't have but i am not angry with this...
Batman: Arkham City and Origins both had skins available for buy which i did buy which is why i am not angry because its something different even though we don't get to make any adjustments, its still changing the look. i shall without a single doubt in my mind be preordering Shadow of Mordor as i want 'The Dark Ranger' skin and also i really wanna get the 'Test of Power' challenge mode so i can thrash my friends :)
Still looking forward to Shadow of Mordor? I know i am!!!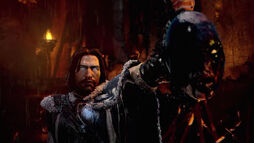 Ad blocker interference detected!
Wikia is a free-to-use site that makes money from advertising. We have a modified experience for viewers using ad blockers

Wikia is not accessible if you've made further modifications. Remove the custom ad blocker rule(s) and the page will load as expected.