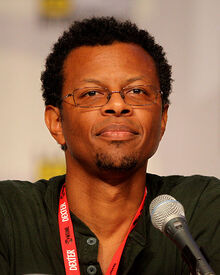 Phil LaMarr
is the voice of
Ratbag the Coward
in
Middle-earth: Shadow of Mordor
.
Biography
Edit
Phillip "Phil" LaMarr (born January 24, 1967) is an American actor and voice actor. He was one of the original cast members on the sketch comedy series MADtv, and has had an extensive voice acting career, with major roles spanning animated series Justice League/Justice League Unlimited, Futurama, Samurai Jack, Static Shock, and Foster's Home for Imaginary Friends, video games Metal Gear Solid 2 and 4, Mercenaries series, Metal Gear Rising: Revengeance, the Jak and Daxter series, Darksiders, Final Fantasy XII, inFAMOUS, and Dead Island.
LaMarr was born in Los Angeles, California. He is a graduate of Harvard High School in North Hollywood, and Yale University, where he helped found the improv comedy group Purple Crayon. One of his biggest roles at Yale was the title character in the British comedy Trevor. After graduating in 1989, LaMarr became a member of the award-winning sketch and improv comedy group The Groundlings. He also studied improv at The Second City and at the ImprovOlympic in Chicago with Del Close. He has also improvised with Cold Tofu and Off the Wall.
Notable Works
Edit
Justice League/Justice League Unlimited as Green Lantern
Voiced various characters for animated TV shows
Vamp, a villain of Metal Gear Solid 2: Sons of Liberty and Metal Gear Solid 4: Guns of the Patriots
Sig and Count Veger in the Jak and Daxter
Several characters in the game Marvel: Ultimate Alliance
Gadon Thek in Star Wars: Knights of the Old Republic
John White/The Beast in the PS3 titles Infamous 1 and 2
Dr. Ragland in the game Prototype
Kevin Washington in Metal Gear Rising: Revengeance
Ad blocker interference detected!
Wikia is a free-to-use site that makes money from advertising. We have a modified experience for viewers using ad blockers

Wikia is not accessible if you've made further modifications. Remove the custom ad blocker rule(s) and the page will load as expected.