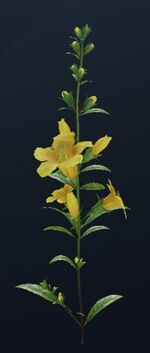 Alfirin is a flower in Middle-earth: Shadow of Mordor.
In-Game Description
Edit
The Never-Fade, Alfirin, is a remarkably durable plant with a year-long life cycle.
In bloom it produces a brilliant gold-yellow and bell-shaped flower that loses neither its color nor its petals for the duration of its life.
Alfirin's nectar is delightful and said to attract bees for miles; further it is also prized by Elves and Hobbits because it can be made into a fine, delicious syrup that is said to promote vigor and robust health. Some eschew the eating of the syrup and instead use it medicinally as it can be applied to wounds to aid in healing and eliminating scars.
The flower shares its name with the the Elvish name for simbelmynë.